The North American Acrylic Wall Surround Specialists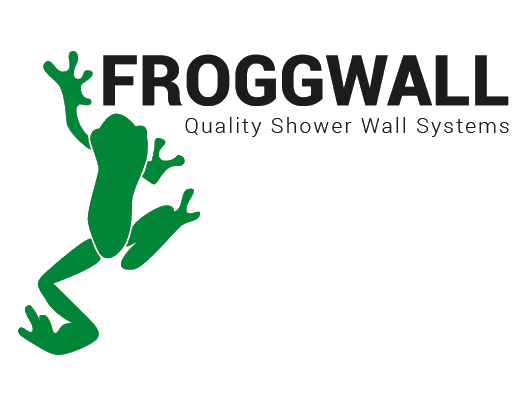 National Acrylics very own designer line Froggwall is a carefully crafted wall surround. Redesigned from the ground up, this tried and true wall system will exceed your expectations. Froggwall is available in a variety of different colours, patterns and textures.
You can find walls created in the likeness of more natural finishes such as wood-grain (Market Oak), or tap into the modern, industrial realm like slate (Concrete) and finally leading up to luxurious looks with the help of marble (Carrara).
Not lacking in personality or style, Froggwall makes a statement in bathrooms – increasing the value of any home.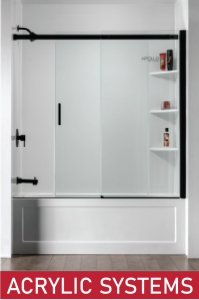 Our Acrylic Wall Surround's are a great way to compliment a century home's tub area or to give a shower area a funky urban vibe.  Featured in a classic white, you are able to give the wet area significant visual appeal without having to sacrifice your preferred colour palette in the rest of the bathroom. Different options to suit different styles!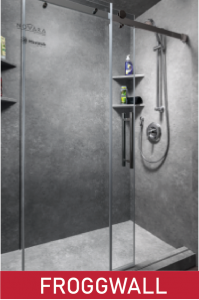 Our zero maintenance, Froggskin protected, walls offer you that "oomph" you're looking for without the hassle of scheduled re-sealing and re-grouting! Just a quick wash with dish-soap and hot water is enough to get rid of that pesky and persistent soap-scum. National Acrylics designer line of Froggwall is an affordable alternative to taking your bathroom to the level of being showcased without sacrificing utility or compromising quality.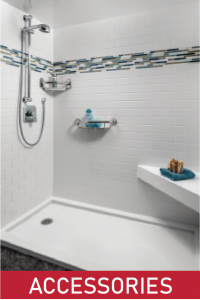 We're excited to offer an impressive array of accessories to complete your shower wall surround.  Custom corner shelving can be placed in either corner at any height.  Window-kits allow for you to fully water-proof the window's trim, and items such as toe rests for shaving, corner or bench seats, and custom shower-bases and caddys allow you to meet all of your renovating needs and personal preferences.